mounted stone & sandpaper
Good Materials | CE & ISO 13485 Certificates | All Range of Shapes & Gri
good materials
Green Mounted Stones are made from the highest quality silicon carbide with medium grit.
Pink Mounted Stones are made of Aluminum oxide material with medium grit.
White Mounted Stones are made of Aluminum oxide with fine grit.

Sandpaper is made of abrasive minerals like aluminum oxide or garnet that are glued onto a paper backing. These minerals have sharp points or edges, and that's why sandpaper is considered a cutting tool like a saw or a chisel.

---
with ce & iso 13485 certificates
All products have been assessed by the manufacturer and deemed to meet EU safety, health and environmental protection requirements.
---
Different Shapes are Available
shank type
HP shank burs (diameter 2.35mm, for low speed dental handpiece)
---
benefits of mounted stones & sandpaper
Mounted Stones:
1. Mounted stones provide gentle and smooth grinding of filling material and all composite filling materials, porcelain, ceramics, precious metals and plastics.
2. Mounted stones can be used DIY grinding, polishing, carving and cleaning jade, alloy, metal, pottery, jewelry, stones, wood, mold, etc.
3. The mounted stone head is made of quality silicon carbide or Aluminum oxide material with high hardness, good abrasion resistance and even granules.
Sandpaper:
1. Sandpaper is great for removing rough materials from the surface.
2. Sandpaper can remove imperfections and create a nice smooth finish.
3. Sandpaper can be used for metal, jewelry, stones, wood, etc.
---
What are differences between green stones, pink stones and white stones?
---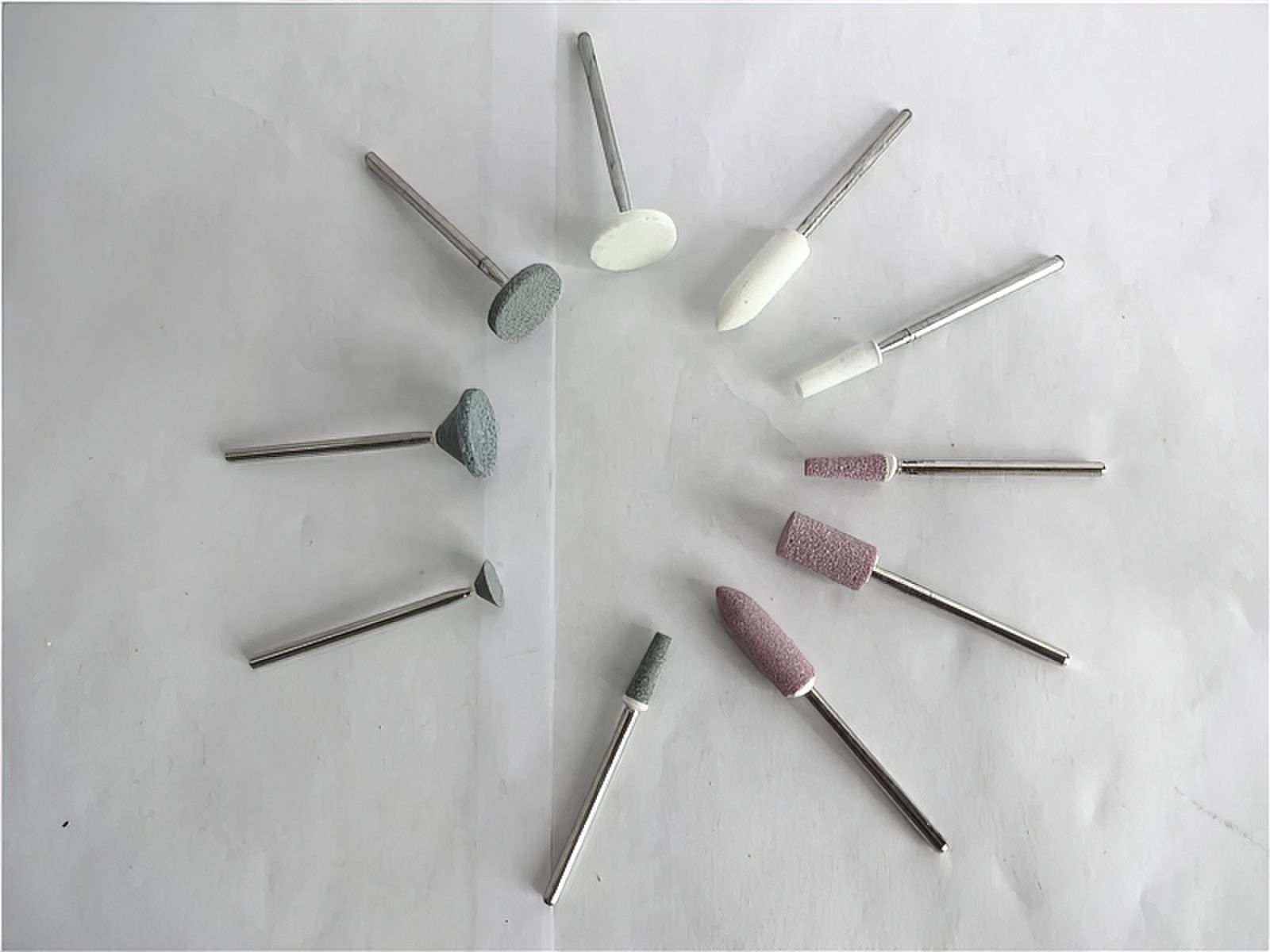 HP Green Mounted Stones:
These Green Mounted Stones are made from the highest quality silicon carbide with medium grit and excellent for contouring and shaping porcelain and metals.

HP Pink Mounted Stones:
Pink Mounted Stones are made of Aluminum oxide material with medium grit. The majority of dental. laboratory technicians and jewelers probably utilized light grinding and polishing of alloys, porcelain, tooth enamel, and precious and semi-precious metals.
In the dental lab, they can be used to grind a variety of metals, although they are optimized for grinding precious ceramic alloys.
When a sharp cutting action is required on a variety of steels and alloys, these adaptable stones are utilized. In addition to the benefits of being brittle and cool-cutting, Pink Mounted Stones demonstrate much-improved form-keeping properties, making them very durable while providing the required sharp cut.

HP White Mounted Stones:
Composed of Aluminum oxide with fine grit, they are the best abrasives for the removal of metal, suited for carving in woodwork and as an abrasive for glass engraving or stone and ceramic carving.
In addition, the fine grit white mounted stone is ideal for smooth grinding and polishing of filling materials and composites. Non- contamination of non-precious metals.
How to choose sandpaper with different grits?
---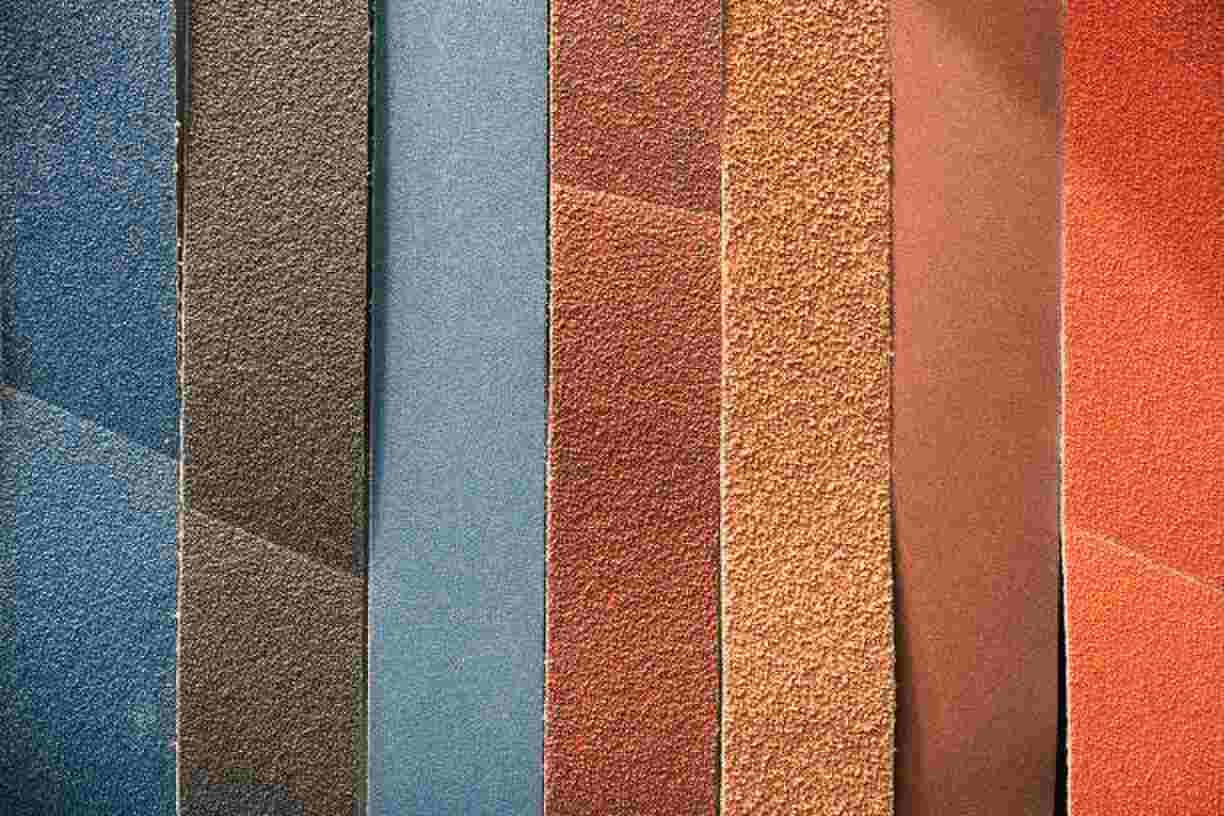 The finer the grit and the smoother the sandpaper, the bigger the number. The substance is removed more quickly with coarse sandpaper, but it leaves behind significant scratches. Fine sandpaper removes less material, leaving a smoother surface behind.
40 to 80 Coarse Grit Sandpaper: ideal for rough sanding and removing stock quickly, such as when using a belt sander to remove the edge of a stuck door.
100 to 150 Medium Grit Sandpaper: a good starting point for the majority of operations, including sanding raw wood and removing old varnish.
180 to 220 Fine Grit Sandpaper: good for removing scratches caused by coarser grits on raw wood and for lightly sanding between applications of paint.
320 to 400 Extra Fine Grit Sandpaper: used for moderate sanding between layers of finish and for sanding metal and other hard surfaces.
600-1500 Grit Sandpaper: can be used to polish mahogany furniture, amber, linden seeds, gold, etc.
Above 2000 Grit Sandpaper: requires a particular level of talent and is utilized mostly for fine polishing, dead skin removal, nail polishing, etc.
Above 5000 Grit Sandpaper: adopting cutting-edge nanotechnology, the surface particle size is relatively small and is utilized largely for fine polishing of premium products.
What's the packing? How many pcs in a pack?
---
For mounted stones, there are 100 pcs in a pack.
The packing is as follow: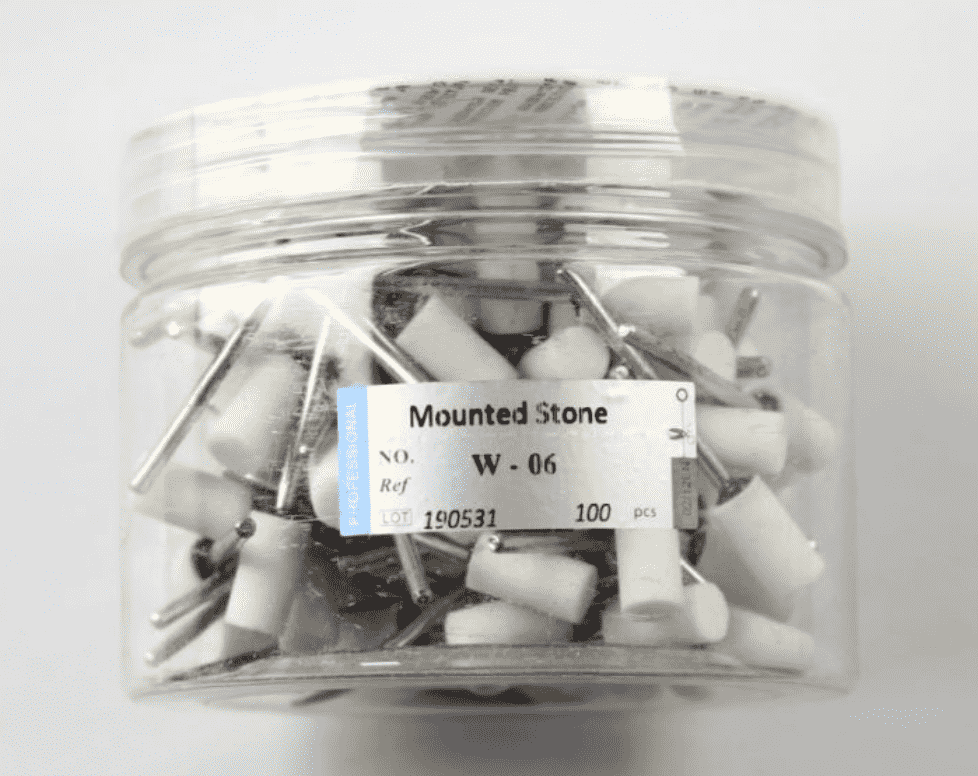 For sandpaper, there are 10 pcs in a pack.
The packing is as follow: