4112 Silicone Polishing Kit For Porcelain/Ceramic/Tooth Enamel Acrylic/Natural Teeth
Reseller or Bulk orders? We are able to offer wholesale prices, guarantee your good profit or reduce your production costs. Please submit quote form to enjoy our wholesale prices.
Specification

Package: 12 pcs/set
Model: 4112 (Includes Coarse: CR101C, CR103C, CR104C, CR106C; Medium: CR101M, CR103M, CR104M, CR106M; Fine: CR101F, CR103F, CR104F, CR106F; 1 pcs each model)
Color: 4 pcs White, 4 pcs Pink, 4 pcs Light Blue
Grit: White-Coarse, Pink-Medium, Light Blue-Fine
Cutting Length (mm): CR101C/CR101M/CR101F: 7; CR103C/CR103M/CR103F: 10; CR104C/CR104M/CR104F: 1; CR106C/CR106M/CR106F: 11

Head Diameter (1/10 mm): CR101C/CR101M/CR101F: 3; CR103C/CR103M/CR103F: 5; CR104C/CR104M/CR104F: 10; CR106C/CR106M/CR106F: 7
Shank Diameter (mm): 2.35
Shank Type: 204-RA/CA Standard
Features
1. Light weight and portable, and convenient to use.
2. The bending handle is suitable for all dental slow machines.
3. Mainly used in porcelain/natural teeth, light curing resin polishing.
4. Concentricity is stable, good decontamination effect.
5. Without any medical polishing paste, you can directly out of high brightness.
6. Anti high temperature, will not cause any black teeth and burial phenomenon.
7. Imported material production, polishing effect is good.
Applications
1. Porcelain/Natural Teeth Polishing RA
2. Composite Finish and Polish RA
3. Dental Silicone Grinding Heads Teeth Polisher
Steps
White polisher➡️Pink polisher➡️Light blue polisher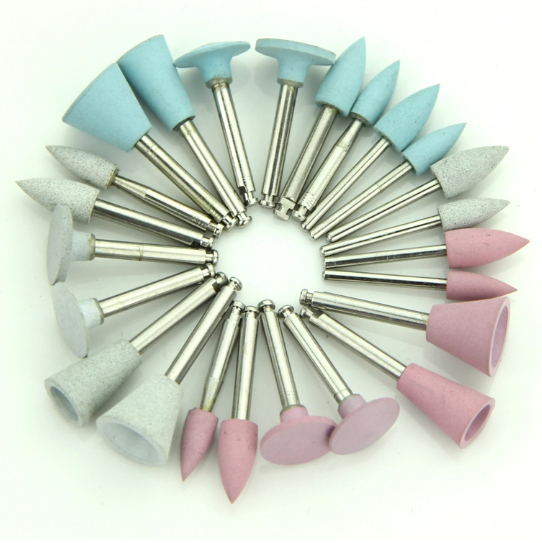 Reviews
There are no reviews for this product.