CP6001 Dental Diamond Polisher Rubber Polisher Kit for Composite Resin Polishing | Polishing for all Ceramics including Zirconia
Reseller or Bulk orders? We are able to offer wholesale prices, guarantee your good profit or reduce your production costs. Please submit quote form to enjoy our wholesale prices.
Specification

Package: 6 pcs/set
Model: CP6001 (Includes Coarse: SR204C; Medium: SR204M; Fine: SR204F, 2 pcs each model)
Color: 2 pcs Blue, 2 pcs Red, 2 pcs Grey
Grit: Blue-Coarse, Red-Medium, Grey-Fine
Head Diameter(mm): 14
Shank Diameter(mm): 2.35
Shank Type: 204-RA/CA Standard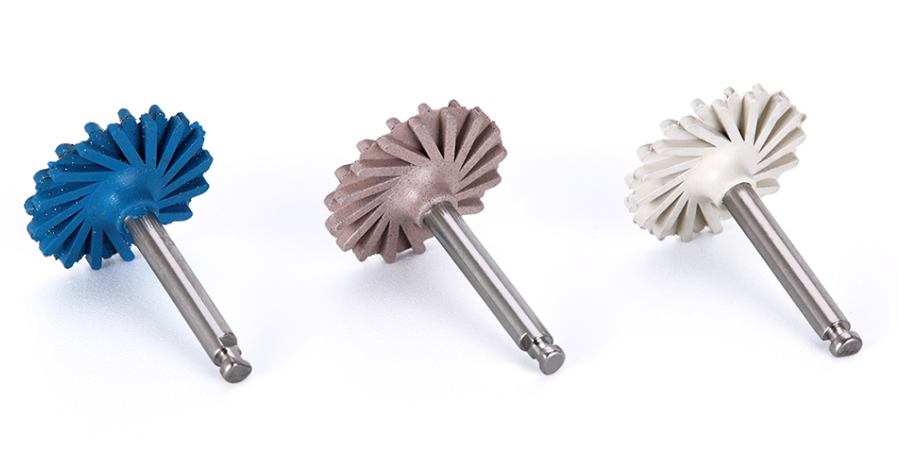 Details
1.Designed for optimal adaptation to any surface, including difficult to reach areas. It achieves a perfectly smooth surface after modelling. It works from any angle. It adapts to all surfaces of the tooth.
2.Unique, flexible shape adapts to all tooth surfaces.
3.With a highly durable construction that enables them to be autoclavable, sterilized and used multiple times.
4.High, long-lasting gloss when used with Filtek™ Supreme Ultra Universal Restorative.
Applications
1. Composites (Direct and Indirect).
2. Resin-modified glass ionomers.
3. Bisacrylic temporary materials.
4. Lava™ Ultimate CAD/CAM Restorative.
5. Precious and semi-precious metal.
Features
1. Diamond impregnated 3-stage polishing system Coarse/Medium/Fine
(1. Smoothing. 2. Pre-polishing. 3.High-gloss polishing)
2. Applicable on composite, ceramic, and Zirconia
3. Recommend speed:7,000-12,000 rpm/min
4.Great for polishing provisional crowns as well as composites."
5.Fits well into interproximal areas without cutting soft tissue."
"After autoclaving, discs did not stay on mandrel as well."
Steps
1. When the low-speed bending machine is in forward rotation, install the blue cyclone wheel and carry out the first finishing / surface scratch removal for the resin repair part (the recommend speed is 10,000-12,000/min)
2. Red cyclone wheel to thoroughly remove scratches on the surface of the resin restoration (the recommend speed is 9,000-10,000/min)
3. Grey cyclone wheel for high brightness polishing. (the recommend speed is 8,000-9,000/min)
Notes
1. The use sequence of cyclone wheel is blue-red-grey, and the speed is used from fast to slow.
2. After the cyclone wheel is installed on the low-speed bending machine, please idle to check whether the mobile phone is in forward rotation.
3. Use appropriate water to cool down.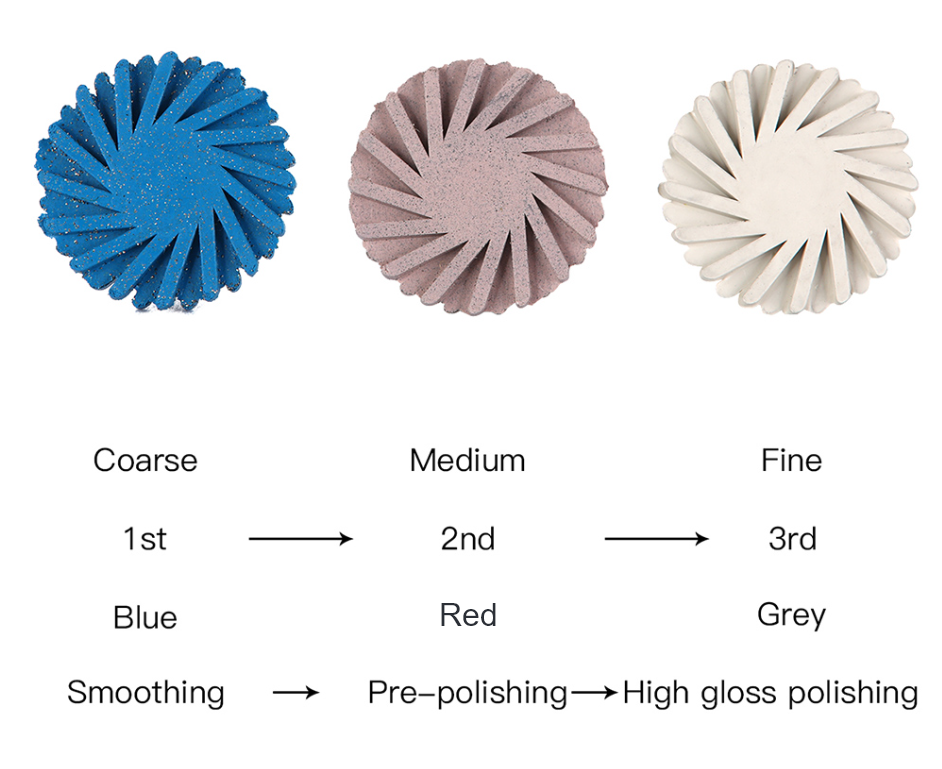 Reviews
There are no reviews for this product.